Reciprocal Rights
Join the Y and gain access to some of the best pools, gyms, courts and fitness programming across our network of YMCA's in SA.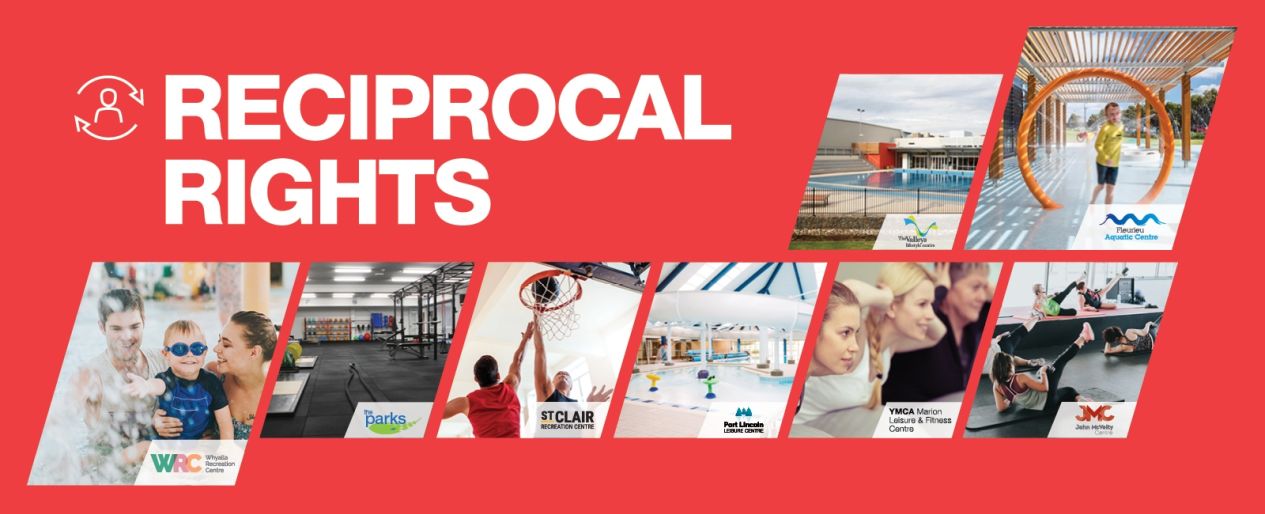 Your All Access YMCA membership now gives you access to all YMCA South Australia managed sites. Reciprocal access opens up 200+ weekly group fitness classes, pools, and stadium courts around the state. Reciprocal rights allow All Access members to use YMCA managed facilities while travelling as well as an opportunity to complement their existing centre experience with something new. Mix up your usual routine by incorporating a swim, shooting some hoops, or trying a new group fitness class at another site.
How to use
Bring a piece of ID and your membership card and check-in with Customer Service staff, letting them know which YMCA site you are visiting from
Customer service will then scan and verify your membership (you will need to check in with Customer Service staff any time you use reciprocal rights)
Plan your visit - check the website of the site your visiting to confirm hours and the group fitness timetable (you can also see their group fitness timetable on the YMCA SA App)
Need to know
While visiting another site, you have the same access privileges as you would if you purchased an All Access casual admission:

Includes gym access, group fitness, pool, stadium courts, etc.
Excludes member benefits such as KidsClub, 24.7 access, Free Child Memberships, Friends Free Friday, etc

The majority of your visits must be at your 'home' location
Active Adult and Active Youth memberships do not include reciprocal rights access.
Holdfast Pilates and Purruna Spencer Newton Centre are not included in Reciprocal Rights.
Only All Access (which includes Foundation, Mates Rates and Concession) Members have access to reciprocal rights (Active Adult and Active Youth do not have reciprocal rights access). Memberships must be active (not suspended) and have no outstanding balance. Active Adult members who would like reciprocal rights access may upgrade their membership to an All Access Membership at any time by talking with Customer Service at their home location.
The majority (over 50%) of your visits/attendances must be at your home location over any 4 week period. If you are using another site for the majority of your visits we will arrange for the transfer of your membership to the appropriate site, including transferring your membership to the closest comparable membership currently available for sale at that site (this may result in an increase in membership fees). We reserve the right to cancel your membership if you do not wish to transfer your membership.
While visiting a site other than your home location, you are granted the same access rights as a casual admission. While visiting, you do not have access to site-specific member benefits such as Playclub/Childminding, 24.7 Access, U10 Free memberships, online group fitness bookings, and any other offer deemed site-specific.
Participating Sites
Whyalla Recreation Centre
5 Racecourse Rd
Whyalla Norrie SA 5608
The Valleys Lifestyle Centre
180 Main North Road
Clare SA 5453
The Parks Recreation and Sports Centre
46 Cowan St
Angle Park SA 5010
St Clair Recreation Centre
109 Woodville Rd
Woodville, SA 5011
Marion Leisure and Fitness Centre
Cnr Oaklands Rd & Rosedale Ave
Morphettville, SA 5043
Fleurieu Aquatic Centre
4 Ocean Rd
Chiton, SA 5211
Port Lincoln Leisure Centre
2 Jubilee Drive
Port Lincoln SA 5606